Labyrinth Sonic - The Jumpless Wonder
Version: 1.0
, by (
Member
)

Developer Last Online
: Dec 2014
---
Category: [Character]
SRB2 Version: v2.1.x
Rating:

(2 votes - 4.00 average)

Submitted: April 2nd, 2014
WAD File Contains Lua Character(s)
So while I was in the IRC, someone came up with an idea of a Labyrinth Sonic for SRB2, and then it struck me to make such a joke WAD. Thus, I turned it into a thing a day later, and finished it the day after that. If you don't know already, this is the Sonic from the horrible Game Gear title "Sonic Labyrinth". Yes this means you can't normally jump, you got super slow, but your Spindash is a little more powerful. To make up for no jumping, and so you CAN beat a stage I've included in a "Spring Spawn" ability which allows Sonic to spawn a temporary Spring for a few seconds. This cannot be used in the air, and other players can also use said Spring.
The Spindash + Spring Spawn can be very useful into getting places much faster than just Spindashing normally, so I hope this helps you out, and makes up for Sonic overall just being... slow...
Without further ado, enjoy the WAD!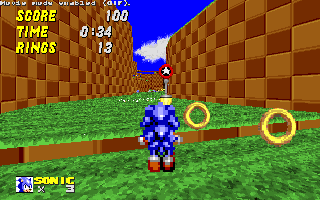 Credits:
742mph
RedEnchilada
Downloads
Additional Notes
Please be mindful of using other people's works. If the modification is not marked as "Re-usable Content", ask the developer for permission before using their work in your mod.