Goomba
Version: 1.0
, by (
Member
)

Developer Last Online
: Dec 2014
---
Category: [Character]
SRB2 Version: v2.1.x
Rating:

(1 votes - 5.00 average)

Submitted: May 17th, 2014
WAD File Contains Lua Character(s)
So considering there are many Badnik WADs out there, I figured I'd join the bandwagon (though I was originally gonna do a normal Crawla) by making Goomba. This character can shoot Koopa Shells as well as fly like the Para-Goomba (though in this case the Goomba can't fly for long but at least you have Hold Fly). It also can survive in water and space, though not lava. These advantages were mostly given to make up for the Goomba's lack of speed, so I hope you enjoy this character WAD.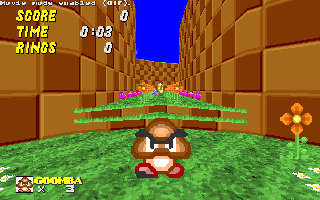 (Yes I'm aware shooting Shells is against a Goomba's nature but I couldn't get Hammers working and there wasn't really any other option)
To perform the Koopa Shell Shoot action, press the the Custom 1 button.
Downloads
Additional Notes
Please be mindful of using other people's works. If the modification is not marked as "Re-usable Content", ask the developer for permission before using their work in your mod.