Mine Maze Remake 2.2 port
Version: 1.4.7
, by (
SonicBoy1234
)

Developer Last Online
: Jun 2023
---
Category: [Level]
SRB2 Version: v2.2.x
Rating:
Submitted: October 17th, 2022
WAD File Level(s)
Re-usable Content Contains SOC Changes Graphics Uses Content From Other Sources Music / SFX(s)
"Introducing Mine Maze, A Remake of an Alpha SRB2 Level, Featuring Platforms moving Vertically and a bunch of Slopes (Act 2), and a Boss Battle, Originally submitted for SUGOI.
Plot:
After Defeating Eggman and his Plans at Arid Canyon He escaped to a Dark
Mine nearby, you decided to Follow him, but you get Ambushed and the Entrance.
collapses, you are now stuck inside a mysterious Dark Maze. Can you survive Eggman's Traps ?" - sluggard
Q&A
Can I reuse your mod?
Answer: Yes, because it is a reusable mod. The same goes to
his
from 2.1.
Original link:
[Reusable] - Mine Maze Remake | SRB2 Message Board
S vs. Normal
| | |
| --- | --- |
| S | Normal |
| This version replaces with no rings start in the 3rd act (AKA, boss battle) but rings is around here (like 2.1). | This version with rings start in the 3rd act (AKA, boss battle) but no rings are around here (like 2.2). |
Credits:
Here is proof of permission: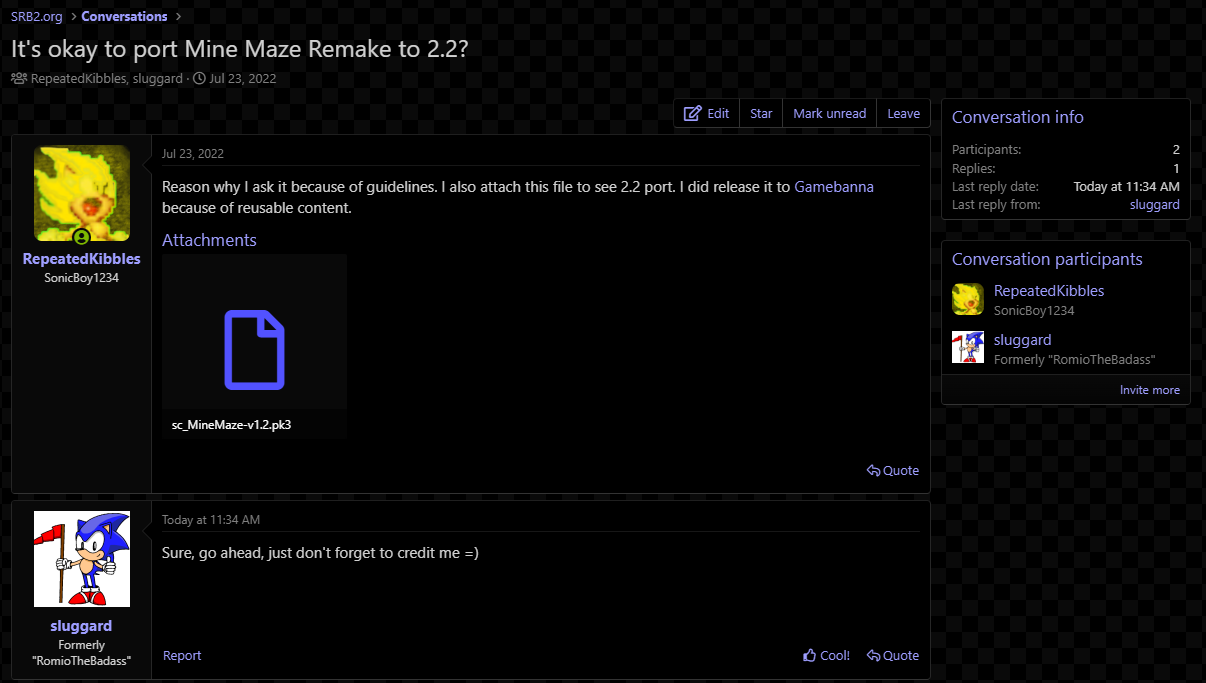 Enable Ginger
Cannot connect to Ginger
Check your internet connection
or reload the browserDisable in this text fieldRephraseRephrase current sentenceEdit in Ginger×
Downloads
Additional Notes
Please be mindful of using other people's works. If the modification is not marked as "Re-usable Content", ask the developer for permission before using their work in your mod.